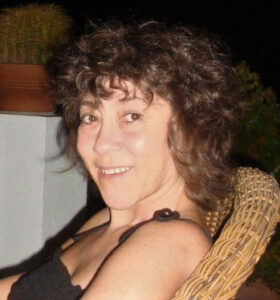 Español
Nace en Buenos Aires, Argentina, en 1961.
Egresa de la Escuela Nacional de Bellas Artes Prilidiano Pueyrredón con el título de Profesora Nacional de Escultura en 1983.
En el año 1989 inaugura su Taller y Galería FUEGO Y FORMA donde trabaja y expone sus obras hasta la fecha.
Trabaja con distintos materiales: cerámica de alta temperatura (gres), hierro soldado, vidrio, fibras textiles y en metal, haciendo esculturas y joyas a la cera perdida, que aprendió con el maestro Antonio Pujía.
Estudia Orfebrería con Jorge Castañón conociendo diversas técnicas que utiliza en la creación de sus joyas, combinando los colores de los diferentes metales: plata, cobre, bronce, oro, alpaca.
Para ello utiliza una antigua técnica japonesa, el Mokume Gane y la fusión de metales.
En 1991 realiza un viaje durante 6 meses recorriendo los centros más importantes de Japón y Europa dedicados a la cerámica, al vidrio y a la joyería, donde se contacta con distintos talleres intercambiando experiencias.
Ha sido jurado en varios salones de Escultura y Cerámica.
Desde 1985 participa en Muestras y Salones de Arte en Argentina y en el exterior.
Sus trabajos se encuentran en galerías de Japón, Estados Unidos y Argentina.
En 2008 es invitada a formar parte del grupo de ceramistas argentinos para participar en el International Macsabal Woodfire Festival, Zibo, China, donde trabaja en su obra personal y en la quema en horno a leña de las obras de todos los participantes del encuentro, durante una semana.
Participa en exposiciones en China y una de sus obras pasa a formar parte del patrimonio del Museo de Cerámica de la ciudad de Zibo y otra de la colección de Cerámicas Taishan.
También asiste al 43° Congreso de la Academia Internacional de Cerámica en la ciudad de XI'AN, China.
PRINCIPALES PREMIOS Y EXHIBICIONES
– 2da.MENCION. Salón Municipal de Escultura. Municipalidad de Lomas de Zamora, 1992.
– 2do.PREMIO Salón Nacional de Artes Visuales, Cerámica, 1993.
– MENCIÓN Salón Municipal de Escultura Quinquela Martín, 1994.
– Bienal de Arte Amelia Pelaez . La Habana. CUBA, 1994.
– PREMIO ÚNICO APARTADO MURALES. Salón Nacional de Artes Visuales, Cerámica, 1995.
– Muestra Individual. Centro Cultural Gral. San Martín, 1995.
– Muestra colectiva Orfebres de La Nave. CCGSM, 2001.
– PRO-ARTE. Exhibición de Artistas Plásticos, Centro Costa Salguero, 2001.
– Muestra colectiva Objetos de Artistas. C.C.Recoleta, 2002.
– 7° Salón del Diseño. Palais de Glace, 2004.
– Muestra individual. Universidad Nac. de La Matanza, 2008.
– Muestra colectiva, Cerámicas Taishan, Zibo, China, 2008.
– Exposición en el Museo de Cerámica de Zibo, China, 2008.
-2° PREMIO. LII Salón Anual Internacional del Centro Argentino de Arte Cerámico, CAAC, Cerámica y Multiplicidad, 2011.
-2° PREMIO ADQUISICIÓN, Salón Municipal de Cerámica de Avellaneda, 2011.
-2° PREMIO, 1° Salón Bidimensión, CAAC, 2011.
– 1er PREMIO ADQUISICION VIII Salón Nacional de Artes Visuales, Junín, Pcia. de Bs As, 2012 – 1er PREMIO en Arte Cerámico, LV Salón Anual Internacional de Cerámica, CAAC, 2014
– PREMIO ADQUISICIÓN Bolsa de Comercio, Salón de Mayo, Museo Rosa Galisteo de Rodriguez, Pcia. de Santa Fe, 2015.
– 2° PREMIO ADQUISICIÓN , Salón Municipal de Cerámica de Avellaneda, 2016.
English
She was born in Argentina in 1961.
She finished her studies at the National College of Fine Arts in 1983, getting the degree of Sculpture Professor.
In 1989 she opened her workshop and Gallery where she works and exhibits her artistic pieces.
She works with different materials: stoneware, iron, fusing glass, textile fibers and metal, making sculptures and jewerly in lost wax, which she learned with the master Antonio Pujía.
She studied Metalsmith with the master Jorge Castañón, knowing various techniques that she uses in the creation of her jewels, combining the colors of the different metals: silver, copper, bronze, gold, nickel silver. To do this, she uses the Mokume Gane (an ancient Japanese technique) and Metal fusions.
In 1991 she traveled around Japan and Europe for six months, visiting the principal centers in Ceramics, Glass and Jewelry, where she contacted some workshops interchanging experiences.
Her works are in Galleries of Japan, U.S.A and Argentina.
She has been jury in several art competitions.
Since 1985 she has participated in exhibitions and art halls in Argentina and abroad.
In 2008 she was invited with a group of argentine ceramists to participate in the Internacional Macsabal Woodfire Festival, Zibo City, China, where she worked in her own works for one week, and then the pieces of all the participants of the meeting, were burned into a woodfire kiln.
She participated in exhibitions in China and one of her sculptures become a part of the patrimony of the Museum of Ceramics of Zibo City and another one of the collection of Ceramics Taishan.
Besides she atended in 43° Assembly of the Internacional Academy of Ceramics in XIAN City, China.
Most important Awards and Exhibitions:
– 2° MENTION Municipal Sculpture Hall. Lomas de Zamora Municipality, 1992.
– 2° AWARD National Hall of Visual Arts, Ceramics, 1993.
– MENTION. Municipal Hall of Sculpture Quinquela Martín, 1994.
– Amelia Pelaez Art Biennial. HAVANA,CUBA, 1994.
– UNIQUE AWARD in Wall Sculpture, National Hall of Visual Arts, Ceramics, 1995.
– Solo Exhibition. San Martín Cultural Center, 1995.
– Exhibition Goldsmiths Group THE NAVE: San Martín Cultural Center, 2001.
– PRO-ARTE. Art Exhibition, Costa Salguero Center, 2001.
– Exhibition "Objects of Artists", Recoleta Cultural Center, 2002.
– 7° Design Hall, Palais de Glace, 2004.
– Solo Exhibition. . National University of La Matanza, 2008.
– Exhibition in Taishan Ceramics Gallery, Zibo City, China
– Exhibition in Museum of Ceramics, Zibo City, China
– 2° AWARD. LII Internacional Hall of Ceramics, Argentine Center of Ceramics Art, CAAC, Ceramics and Multiplicity, 2011.
– 2° ACQUISITION AWARD , Nacional Hall of Ceramics, Municipality of Avellaneda, 2011.
– 2° AWARD, 1° Hall of Bidimensional Art, CAAC, 2011.
– 1° ACQUISITION AWARD, VIII National Hall of Visual Arts, Junín, Buenos Aires Province, 2012
– 1er AWARD in Ceramics Art, LV Internacional Hall of Ceramics, Argentine Center of Ceramics Art, CAAC, 2014
– ACQUISITION AWARD, "May Hall", Rosa Galisteo de Rodriguez Museum, Santa Fe Province, 2015
– 2° ACQUISITION AWARD , Nacional Hall of Ceramics, Municipality of Avellaneda, 2016